Our Berkshire Pigs & Berkshire Pork Cuts
Quite literally the royalty of all pork! Hoardweel Berkshire Pork is famed for its marbled, sweet and succulent flavour that is developed over time. Not to mention the crackling… This rarebreed has proven to be a favourite with us and our customers for long lasting flavour and tender meat, that we wouldn't choose any other.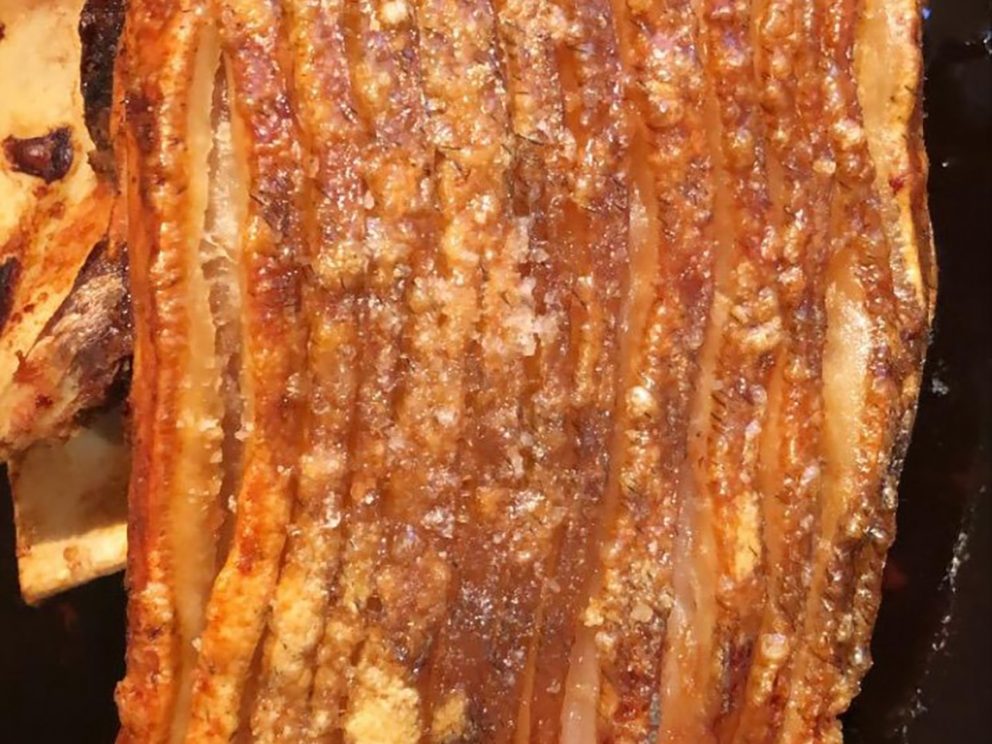 What makes Berkshire pork special?
Berkshire pork is recognised across the world as a prestige meat. For anyone who has ever tasted Berkshire pork, you will know that the flavour is unlike any intensively reared and produced pork; the flavour is developed over time and with care.
Our pigs are bred and raised on the farm.  Allowed to grow slowly to build up a good layer of fat, which is where this pork gets so much of its delicious flavour.
The 'old fashioned' taste that so many of our customers refer to is because this meat has no additives, it is pure, clean and very tender.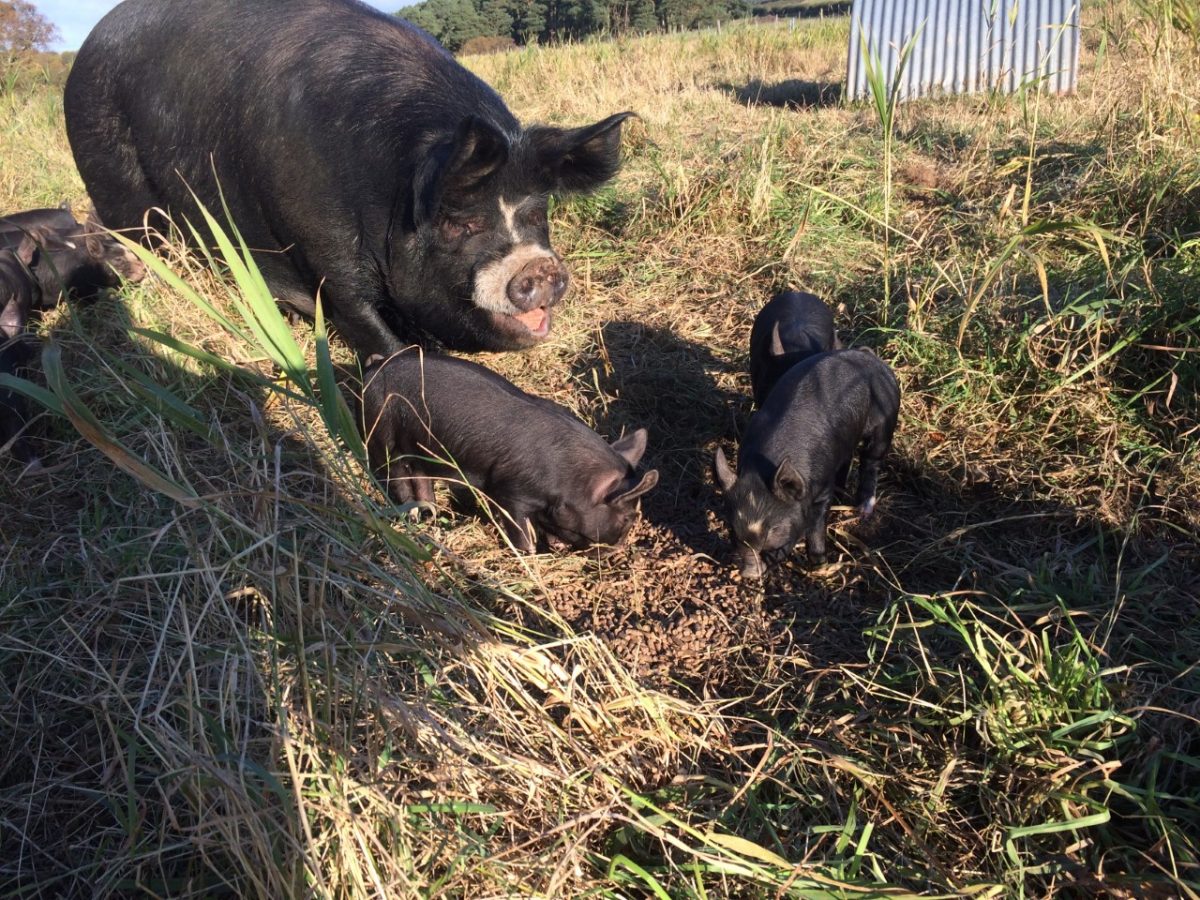 What is the history behind Berkshire pigs?
Berkshire pigs are very good natured and love to forage and root when kept outside. They have a very distinctive and recognisable look about them; black in colour with white markings down the face and on the socks and tail of the pigs. It's this black coat that makes them resistant to sun burn and they have proven to be a very hardy breed.
Originating in the Thames Valley around 1790, it become a popular breed but fell out of favour in the 1900's when other more commercial options became available to farmers, meaning the Berkshire's numbers declined so much that it neared extinction.
This rarebreed's numbers are now stable and has been recognised for the quality traits we all know today. The breed is especially popular in Japan where the pork is marketed at a premium.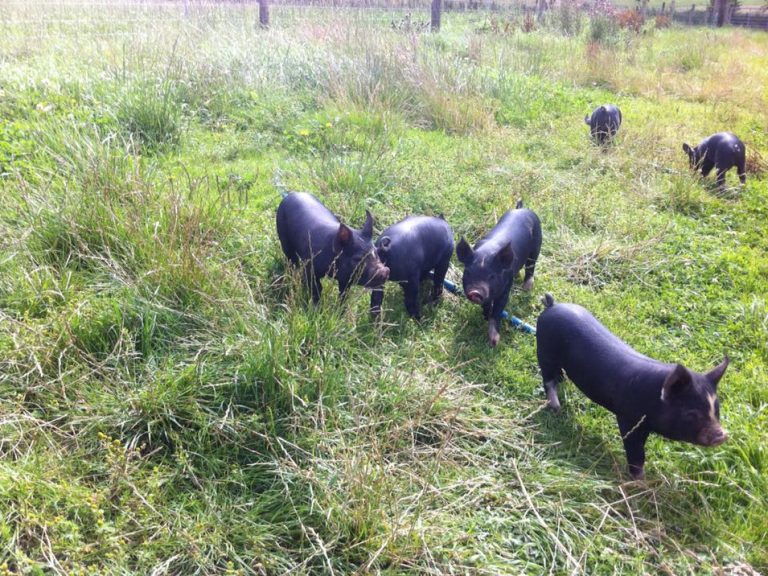 How is Berkshire pork raised?
Berkshire Pigs are well suited to the outdoor environment that our pigs enjoy on Hoardweel Farm. We run a group of purebred sows and boars that are used to breed the litters of Berkshire piglets. These groups live outdoors on carefully selected ground which is ideal for their inquisitive, rooting nature that they love so much.
The piglets stay with their mother for approximately 8-10 weeks until they are weaned and then live together, growing and developing slowly on a mix of natural foraged roots, vegetation and grain.
We feel passionately about ensuring our pigs live a happy and social life, while they enjoy the interaction of being able to run, play and roll about whenever they like. This stress-free environment allows the animals to grow slowly and build up the inter-muscular fat which leads to the wonderful full flavoured pork that we love.
Other frequently asked Berkshire Pork questions
Our Berkshire Pork Products
What our customers say
Fantastic family business and incredible meat!!! To say the meat is good is an understatement, we have had different cuts of beef and pork each one as good as the last. This is a local farm producing fantastic products, we wont be buying meat from anywhere else.
Lucky enough to be able to pop past the farm to buy some meat. Very warm welcome and engaging conversation with incredible passion. This passion shows in the stunning array on offer. Wagyu sirloins and lamb chops just beautiful. Well worth a look in. Thank you so much. Look forward to seeing you again soon.
I've read about Wagyu beef for many years and always been curious. The recurring comment about it was that it melts in the mouth. I've just had one of Hoardweel's Wagyu ribeye steaks and it did, literally, melt in the mouth. It was like cutting butter, soft and juicy and so flavoursome. Astoundingly good meat, I have never tasted better. Believe me, I'll be back for more!!
We cracked open our delivery last weekend and enjoyed the Wagyu burgers….. oh my goodness, they were amazing. Certainly not just a usual burger. We will be ordering more of these for sure…Whats next steak or the silverside joint… decisions decisions!! Whatever we pick i know it will be delicious….
I have just had the loveliest pork sausages, I love your meat & cannot believe that I didn't eat meat before trying yours. It has taken years… but your meat is unbelievable !!
I have just made room in my freezer for the whole Wagyu Brisket that I have ordered, mostly by eating your pork. Really impressed, the chops are outrageous !!